I'm beginning to understand why they say here "If you don't like the weather, wait five minutes." I'm also beginning to understand why they say that this year has been really, really weird in regard to weather.
Let's take this week as an example:
We started out with beautiful temperatures for a few days -- we even hit 70 one day! It was wonderful, despite the earthquake on Monday. Yes, apparently they have small earthquakes in Cleveland (technically a little outside of it).
The weather started to get a bit nastier, and we had rain on Wednesday. Wednesday night: a tornado. That night's rain turned to freezing rain, and then sleet, and by the time I woke up to go to work, we had an inch of snow on the ground.... WHAT??? Also, freezing rain can sometimes make big branches or power lines fall from its weight. As I was getting out of bed, I heard a very loud crack, and heard Dan, in the kitchen, yell "OH MY GOD!!" I ran out, and my neighbor's giant weeping willow tree had fallen over the fence onto our garage. The cars weren't in it, thank goodness, but I'm still mourning that tree... it was beautiful!
Friday: It wasn't supposed to snow, but it started to on my way to work, and continued all day.
I haven't been outside today, and I'm scared to look out the window. What's next, a hurricane?
All the same, spring is definitely on its way. I've been finding blooms and new growth in places around our yard. Hurray!
Here, have some pictures
The tree incident: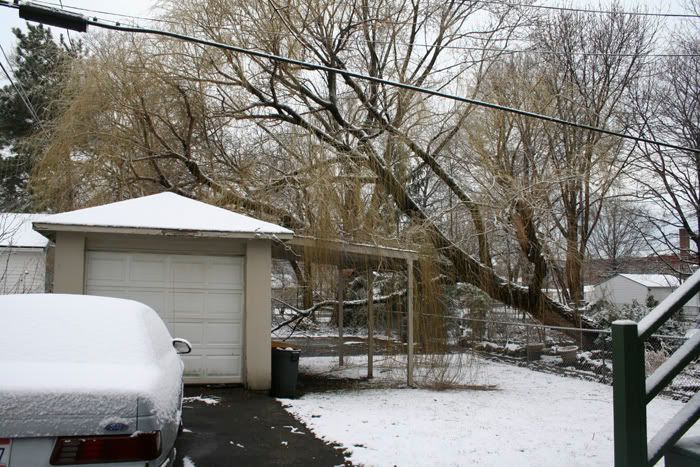 Freezing rain:
The first buds of spring on our tree: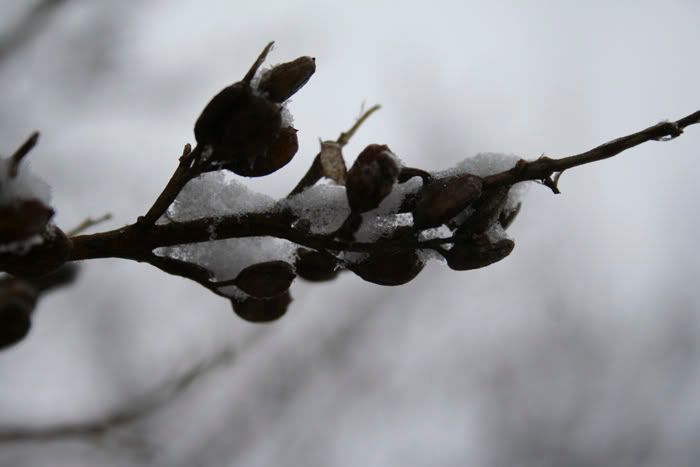 No idea what these are, but they look like blooms of some sort. Fooled into growing in the warm days and then being covered with snow. Nature is mean!